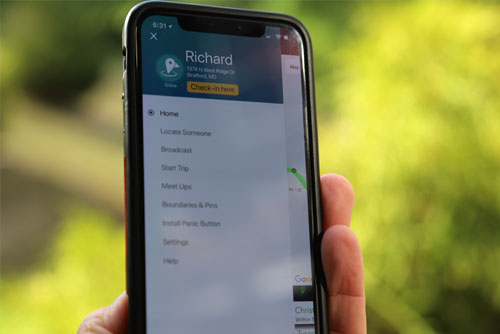 Gps location tracker and best battery life with latest updates
GPS location tracker app, Chirp GPS now offers the best battery life of any location tracking app with new 4.0 updates. Also included in the update is a new meet up function, and finding someone location by just using their phone number.
We are happy to spread the word that Chirp GPS 4.0 mobile GPS tracker app is now available in the app store and includes a completely new approach to location tracking that has real-time GPS tracking with less than 10% of the daily device battery life used.
The latest version of Chirp GPS also now includes a new "meet-up" features to let users create places to meet with friends, milage tracking, speed alerts, locating anyone by phone number, and other updates, all rolled into the latest release.
"GPS location sharing on a mobile device can be very taxing on the phone battery, so people tend to turn it off and use it only when necessary. By rewriting Chirp GPS to use all of the sensory information a mobile device has, and not just the GPS signal, plus utilizing machine learning, we are able to perform real-time GPS tracking on a mobile device, but only taking less than 10% of the devices daily battery in most use-cases. It's a milestone no one else in the industry has been able to get close to until now", says Richard Harris, CEO of Moonbeam.
Real time GPS location sharing, and no battery hit
The GPS tracking engine is a first of it's kind in the tracking industry, but how was Moonbeam able to pull off real-time tracking without killing the device battery? It all has to do with machine learning, and letting Moonbeam's unique algorithm "learn" about how you travel, and how you use your device.
Locate someone by phone number even without the tracking app
Convincing people to install a GPS location sharing app on their device is usually met with resistance, and respectfully so - your privacy is important! So for those people who want to locate someone that doesn't have the Chirp GPS app installed, you can now just locate someone by using their phone number. Just tap "Locate Someone" on the main menu, and select "Locate by phone phone number". Type the number of the person you want to find, and within a few seconds - viola! You can see exactly where they are on a map, including their speed, address, heading, and more. A bit terrifying we know - but the user on the other end does have to accept a prompt to allow you to see this information, but it's an easy way to location anyone.
GPS Meet up places let's people RSVP and tells you when they are coming
The new meet up feature takes the hassle out of planning a meet up by giving you the tools to define, when, where, and who is coming, with real-time alerts of people you've invited RSVP's, when they are on their way, and when they've arrived, plus more!
Here's how simple creating a meet up is: Tap "Meet up" on the main menu of the app, then "Create new meet up". Give your meet up a name, type or search for the exact place to meet, and assign a date and time when it happens. Now just invite people! When you invite someone they get a text message with the meet up details, and can tell you if they are coming or not, and if they want to receive reminder alerts.
Broadcasting your location with GPS and address in real time
Broadcasting has been improved as well to make it faster and easier to share your location with anyone. And there is also a new "check in" button that lets you share your location in a one-time event style way.
There have been a number of other improvements that help take advantage of the new tracking engine to further strengthen the software for our users.
As always, our dedication to you is number one, and your feedback helps us in many ways. So if you have a comment to share please reach out.