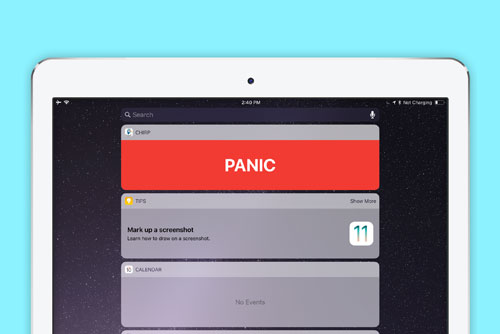 Chirp GPS app now includes home screen panic button
Chirp GPS offers free GPS tracking and a mobile panic button that works from the home screen of your device as a widget.
We have just updated Chirp GPS
mobile tracking
to version 3.1 and are excited to tell you about a brand new GPS tracking safety feature that is a first in the industry, a new panic button feature that activates right from your iPhone home screen.
You carry your mobile device everywhere, so why not let it help protect you by giving it the power to instantly alert people that you are in trouble. Our new mobile
home screen panic button
does just that. Turn on your screen, and tap panic - your list of people whom you want to receive the alert get the notice, and your address.
No fumbling to unlock your phone, find the right app, and activate a feature. Just turn on your screen, and send a silent panic alert -done!
The new
mobile GPS tracker
update includes some other system level changes too, such as now allowing multiple connections to anyone even when they aren't a subscriber (prior to this update you could only connect to other subscribers). This is great for families where only one person needs the ability to use advanced tracking features, but you need real-time tracking for everyone. It gives you 4 continuous connections for one price!
But the big news is the new panic button feature now being on the home screen. Plus you can even activate panic alerts from the Chirp GPS icon. Here's a look at how the new mobile GPS panic button feature works.
Once you are paired with someone else using the Chirp GPS mobile app, tap their name from the list to view the info card for them. Next, tap "panic" and that user is automatically be added to the people that get notified when you send a panic alert.
To setup the panic button on your home screen, from the home screen on any iOS 10 and above device, scroll to the bottom to edit your home screen widgets, and add Chirp. Now you are just one tap away from sending people a notice that you might be in trouble. The people that receive the alert from you will see something like this: "Richard sent a panic alert from 123 Street, Somewhere City, FL, USA"
When the person receives the alert, tapping it takes them to a real-time view of your current location so they can alert the authorities, or get to where you are.
The new panic button feature allows people to quickly access an emergency button faster than anything else in the industry.